Thinkhub in Collaboration With EDII Certification of eCommerce Entrepreneurship Program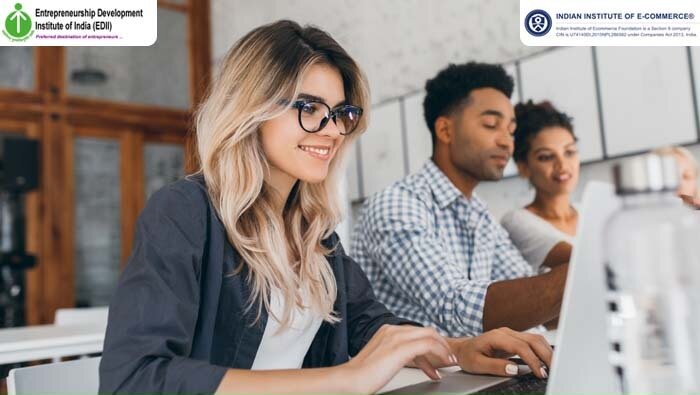 Thinkhub-EDII
EDII and Thinkhub are planning to lunch a joint certification program in the name of "E-Commerce Entrepreneurship" for individuals aspiring to start business in the area of e-commerce. This course will be predominantly delivered online through prerecorded video lectures/content with periodic online live sessions for students.
The main objective of the program is "New Enterprise Creation and Management leveraging E-Commerce". To achieve the objective the course will focus on various aspects of starting and managing an enterprise. This course will help participants


Develop motivation, re-inforce entrepreneurial traits and the spirit of enterprise
Facilitate decision making process for setting up a new enterprise
Learn and apply the e-commerce knowledge in practice for the successful and profitable   operation of the enterprise
130 Hours of E-Learning Certificate Program.

The entire course ideally should be finished within 10 months from the date of registration. However, students can take their own time to complete the course. But the total duration may not exceed 18 months from the time of registration. Handholding will be done by EDII for a period of 2 years after the completion of the course.
Entrepreneurship Level I
Entrepreneurship Level II
E-commerce Professional Basic courses
B. E-commerce Professional Advanced Courses
Entrepreneurship Level I
| Unit No. | Topic | Description | Duration |
| --- | --- | --- | --- |
| 1 | Fundamentals of entrepreneurship | Overview of Entrepreneurship, Entrepreneurial traits and process, Indian SME sector, societal factors, government policies, economic infrastructure. | 1.5 hrs |
| 2 | Planning a new enterprise | This module teaches about small scale sector, importance of planning, government procedures, types of business and selection of appropriate form of ownership, choice of location, sources of financial assistance, institutional network and other relevant information related to project. | 1.5 hrs |
| 3 | Business opportunity and ideas | In this module students will explore business ideas and evaluate multiple options, government policies and its impact on their business. | 1.5 hrs |
| 4 | Marketing and product strategy | What is marketing and its relevance, concept of value chain, mass marketing, marketing research, estimating market demand, Product strategy, PLC, distribution strategy, Rural marketing. | 1.5 hrs |
| 5 | Making of an Entrepreneur | The students will be exposed to Entrepreneurship as a career, Understanding self, EI, Team building and leadership, Goal setting, Systematic planning, Overcoming failures | 4.5 hrs |
| 6 | Business Plan Overview | This unit will educate students on Business Plan preparation, promoters, constitution and statutory compliances, industry analysis, Assessment of technical feasibility, assessment of financial viability, implementation schedule, growth and exit strategy | 6 hrs |
| 7 | Entrepreneurial Finance | Role of accountant, financial statements, cash flow, cost and pricing, working capital management, operating cycle, cash credit and term loan etc | 3 hrs |
| 8 | Legal Aspects for entrepreneurs | Contract Act, Industrial Disputes Act, Wage Legislation, Income Tax Act, GST, and exposure to their Relevant Laws. | 1.5 hrs |
Entrepreneurship Level II
E-commerce Professional Basic courses
B. E-commerce Professional Advanced Courses